Academic Affairs Committee
Responsibilities and scope of work:
Hold meetings to discuss issues concerning academic affairs, keep abreast of, propose and formulate academic affairs policies, and in particular coordinate work between subject departments and teaching arrangements within subject departments.
Oversee and make recommendations for  academic curriculum, education development, and related assessments.
Keep abreast of and respond to the external factors which impact our school's academic affairs policies.
Use our best endeavours to promote our school's educational aims, while striving to implement such aims within the teaching of our different subjects. (The aims include "teaching and learning with quality", "advance Chinese culture", "cultivate cultural and personal qualities", etc.)
Coordinate and liaise on teaching and learning related issues.
Carry out work related to academic affairs, including curriculum development, teaching assessments, examination, class formation, choice of discipline, enrolment records, etc.
Members:
Prefect of Studies (convenor)
Other chief member(s) overseeing academic affairs
Panel Leaders of core subjects
Supplementary members (if applicable)
Class Structure:
| | | | | | |
| --- | --- | --- | --- | --- | --- |
| F.1 | F.2 | F.3 | F.4 | F.5 | F.6 |
| 5 | 5 | 5 | 5 | 5 | 5 |
Curriculum:
MOI:
Except Chinese Language, Life and Society, Citizenship and Social Development, Liberal Studies, Chinese History, Chinese Literature, Putonghua and Life Education, the medium of instruction of all subjects is English.
Timetable: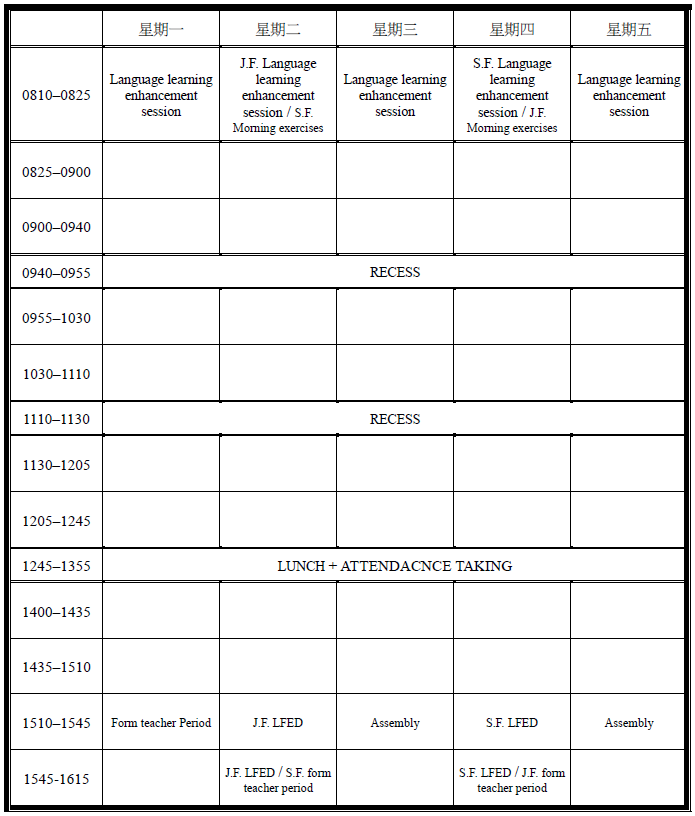 Coverage of student services: